Season's greeting from IRIDESCENT BOY, ONCE IN A BLUEMOON.
IB ask for your love and participation! Thank you!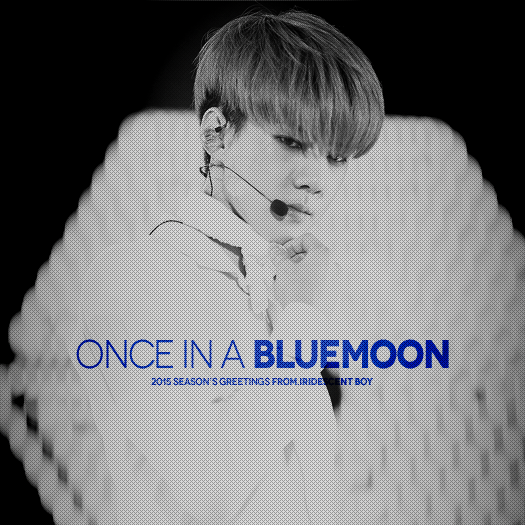 Schedule
Deposit Period: 13 Sept ~ 11 Nov 2014
Shipping : from end of November.
Specification
» CALENDAR:Vertical, 150*230mm, 32page±, ALL COLOR, All unreleased fantaking photos
» DIARY : Soft window cover, 120*180mm, ALL COLOR, 160pg±, All unreleased fantaking photos
Special Gifts
Mini DVD(All unreleased videos)
Polarloid 12sets
A2 Poster
Photo cards 10
Post cards 3
Window cover cards 3
Season's greeting card
Drawing note set
Memo pad
Dust bag
Price / include ems fee
Only package sale (
CALENDAR + DIARY)
1 SET : 748.000
DP :448.000
Payment method

KLIK! 
NOTE
– Harga yang tercantum untuk adalah untuk kuota 3 set. Harga kemungkinan bisa turun jika pemesanan melebihi kuota, begitu juga sebaliknya.
– Harga masih bisa berubah berdasarkan nilai tukar $ – IDR
For Serious Order
KLIK
'ONCE IN A BLUEMOON'
Photo Preview






'ONCE IN A BLUEMOON'
Video Preview
'ONCE IN A BLUEMOON'
Diary & Calendar Design Preview

Happy Shopping \o/
Spring Blossom